QT-16 Safety and Operation Instruction
Page 10

OPERATION
Before driving the FMC Bolens tractor, the operator should be familiar with the location and functions of all controls.

WARNING

Children shall not operate this tractor because the average child is not able to cope with the complexities of this power tool.

SEAT ADJUSTMENT

NOTE

For safe operation adjust the seat for comfort and control.
To adjust seat, remove the two rear capscrew (A) figure 8. Loosen the two front capscrews (B) figure 8. and reposition seat by sliding either forward or backward.
Tighten front capscrews and reinstall rear capscrews to secure seat in its new position.

On Serial No. 0500101 and up, adjust seat by loosening knobs (C) figure 9 beneath seat and slide seat forward or back. For different spring suspension, twist spring (D) to loosen. Slide spring to the front for light operators or back for heavy operators. Twist spring to tighten.

To keep seat in a upright position turn arm (E) down to act as a brace for the seat.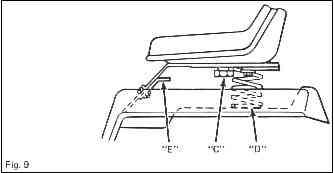 CAUTION
1. KEEP ALL SHIELDS AND GUARDS IN PLACE.
2. BEFORE LEAVING OPERATOR'S POSITION: SHIFT TRANSMISSION TO NEUTRAL SET PARKING BRAKE, DISENGAGE ATTACHMENT CLUTCH, SHUT OFF ENGINE AND REMOVE IGNITION KEY.
3. WAIT FOR ALL MOVEMENT TO STOP BEFORE SERVICING MACHINE.
4. KEEP PEOPLE AND PETS A SAFE DISTANCE AWAY FROM MACHINE.