To install new belts, reverse the above procedure. Be sure belt guides are properly positioned on the engine. Locator on back of belt guide should fit into groove on face of engine.

PTO BELT ADJUSTMENT
The PTO belt can be adjusted by loosening the three capscrews (C) that hold PTO support casting to axle support casting. Raise or lower PTO support casting to proper adjustment.

DRIVE BELT ADJUSTMENT
Adjustment of drive belt tension is automatically performed by a spring loaded idler pulley.

IMPORTANT
A loose drive belt will slip under load and one that is too tight will drag in the pulleys. Proper adjustment of belts will allow belt tightener pulley to move approximately two inches from disengaged position before it is stopped by belt.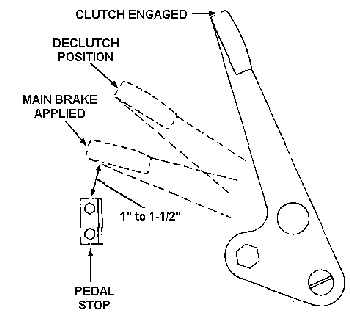 Figure 10

If belts are properly adjusted (as described above) and still drag, check adjustment of lower belt guide. There should be approximately 1/8" clearance between pulley and belt guide all the way around so that belt will run without dragging on belt guide when clutch is engaged and so that it will hold the belt as close to the pulley as possible when the clutch is disengaged.

The Transmission Brake, being the main brake, must be checked frequently and adjusted as follows:

1. Depress CLUTCH-BRAKE pedal to within approximately 1 to 1-1/2" from stop. (See Figure 10.)
GENERATOR-STARTER DRIVE BELT ADJUSTMENT
The generator-starter drive belt can be adjusted by loosening the capscrew on the adjustment bracket and moving the generator-starter. The belt is properly adjusted when it can be depressed approximately 1/4 inch under slight thumb pressure.

CLUTCH-BRAKE PEDAL
The brake will require adjustment (at two points) due to normal wear. As you familiarize yourself with the tractor, you will notice that when you depress the Clutch-Brake Pedal approximately two-thirds, the clutch is disengaged. This Clutch-Brake Pedal position also serves as a brake to stop the vehicle when in gear. Pedal adjustment is set at the factory and should not require frequent attention unless the linkage has been disturbed. Should clutch slippage become evident or brake shoe lining is worn see your Bolens dealer.
DO NOT OPERATE VEHICLE WITH PAKING BRAKE ON.
However, to prevent the vehicle from moving when transmission is in NEUTRAL or when shifting into another gear, particularly on inclines, it is necessary to further depress the Clutch-Brake Pedal to apply the Main Transmission Brake.